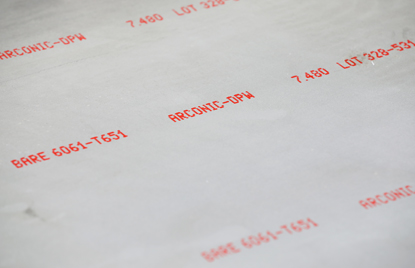 Introduction to ARCONIC / Why Use ARCONIC?


Aluminum generally makes one think of ALCOA. Indeed, ALCOA is one of the largest companies, with the longest history in the aluminum area. When Coca-Cola was first developed, it also developed the innovative can product for the first time. Even when the Wright Brothers developed an airplane, ALCOA materials were used. Even now, it continues developing aerospace materials that no one else can make.

At present, ALCOA is registered as an official material for the semiconductor/display industry in Korea.

ALCOA (ARCONIC) materials are highly recognized even in the aerospace area, and these materials can be purchased at the most competitive prices in Asia only through Korea Non-Ferrous Metals Co., Ltd. In particular, it is the only company in the world that owns VTS (very thick stretcher) facilities. VTS secures product stabilization, as the product stretcher enables thickness of up to 12 inches (304.8 mm).
Used in Samsung/LG facilities
Used in KAI (Korea Aerospace ndustries)/Korean Air/BOEING/AIRBUS
Korea Non-Ferrous Metals Co., Ltd. holds AS9120 (aerospace quality management system certification)
ALCOA INTERNATIONAL APPOINTING KNF AS ITS AUTHORIZED DISTRIBUTOR IN SOUTH KOREA

Paul Hergenroeder / Kook Heon Ahn/ Anil Govada / Joseph Stasiuk / Dong Chan Heo

Awarded Best Supplier Award at the 2014 Aluminum Trade Fair—German Dusseldorf Alcoa Global Rolled Products (GRP)

Patrick Boittiaux / Mark Vrablec / Kook Heon Ahn / Bernd Schafer / Brian Pendrak

KNF & ARCONIC 25 YEARS SUCCESS PARTNERSHIP

Mark Stuckey / Kook Heon Ahn
Agreement for Domestic sales rights between Korea Non-Ferrous Metals Co., Ltd. and ALCOA

Agreement for Domestic sales rights between Korea Non-Ferrous Metals Co., Ltd. and ARCONIC

20th Anniversary of Partnership between Korea Non-Ferrous Metals Co., Ltd. and ALCOA

25th Anniversary of Partnership between Korea Non-Ferrous Metals Co., Ltd. and ARCONIC