QC-7 A PROVEN TRACK RECORD
Arconic(Alcoa) has provided the world's leading aluminum products for more than 100 years. QC-7 is no
exception. First introduced in 1986, QC-7 has excelled in the die set and mold plate industries. It has exceptional machinability and outstanding through-thickness hardness and yield trength, all at 1/3 the weight of steel! It's now the obvious choice for your business.


QC-7 LIGHTER THAN STEEL
Lighter weight means easier handling and smaller equipment is required to move QC-7 die sets.
Less down-time for die changes results in more time stamping parts.
At 1/3 the weight of steel, there is less wear and tear on the press, resulting in reduced maintenance costs and unplanned outages
In many cases, faster press operation can be achieved so you produce more parts per hour.


QC-7 STRONGER & HARDER THAN STEEL
With a typical yield strength 48% greater than 1020 steel, QC-7 can be substituted gauge-for-gauge with steel, so that existing designs for press interference fit can be utilized.
With a Brinell hardness 30% greater than 1020 steel, QC-7 resists dents, dings and scratches better.


QC-7 FASTER THAN STEEL
With cutting speeds as much as three to five times faster than steel, QC-7 dramatically reduces the time and labor required to deliver a new die set.
Excellent through-thickness consistency means smaller, more easily broken chips.
Cutting tools stay sharp longer.
Faster finishing improves your productivity and bottom line


QC-7 ABSORBS SHOCK & VIBRATION BETTER THAN STEEL
Even with QC-7's higher strength and hardness, QC-7 has the ability to absorb and deflect "miss-hits" better, because it has a modulus of elasticity that is 1/3 that of steel.
This increased "flexibility" means that QC-7 returns to is original shape, stroke after stroke.
This improves the quality of stamped parts and reduces rejects.


QC-7 THERMAL CONDUCTIVITY FOUR TIMES GREATER THAN STEEL
With its higher thermal conductivity, QC-7 dissipates heat much faster than steel.
There's no need to worry about heat build-up or distortion from linear expansion in the die set.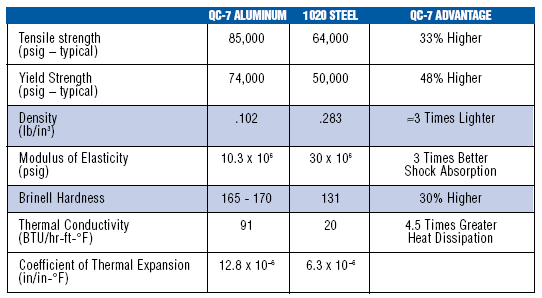 QC-7 THE ECONOMICAL SOLUTION
Take advantage of all QC-7 has to offer—its light-weight, high-strength, high-hardness, great machinability, and high thermal conductivity. When it comes right down to it, QC-7 is the best aluminum for your die set applications.
QC-7 is available in 1" through 8" thick plates cut-to-size by Alcoa's network of appointed distributors.