Alloy 6013 is a new medium strength aerospace alloy that provides improved corrosion resistance and formability for use in aerospace applications including primary aircraft structures.
Alloy 6013 is an aluminum-magnesium-silicon-copper alloy that has yield strengths 12% higher than alclad
2024-T3 and is virtually immune to exfoliation and stress corrosion cracking. Industry use has demonstrated that 6013 in the T4 condition has better stretch forming characteristics than other aerospace aluminum alloys. Parts can be formed in the T4 condition and aged to the T6 condition without costly heat treating or annealing operations.




Uses for 6013 include primary structural applications including fuselage panels, leading and trailing edges and engine cowlings. Lockheed has chosen 6013-T6 for the fuselage of the Navy¡E¢cE¢®Ec?s P-7A aircraft. Canadair has specified 6013-T6 for the leading edges of the Regional Jet. Questair has been producing the Questair kit aircraft since 1986 entirely from 6013. Major jet aircraft builders are considering 6013 for applications on large commercial aircraft. Alloy 6013 is receiving consideration in most new programs taking advantage of the improved formability, lower density and corrosion resistance.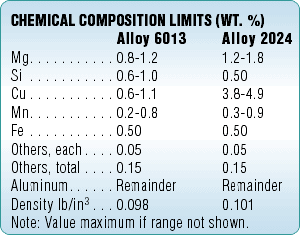 Alloy 6013 requires special heat treatment and aging practices. Contact your local Alcoa sales representative for this information.

MECHANICAL PROPERTIES-6013-T6 SHEET

Guaranteed Minimum Long Transverse Mechanical Properties. Alloy 6061-T6 and Alclad 2024-T42 properties shown for comparison.


FATIGUE CRACK GROWTH

Comparison of the Constant-Load-Amplitude Fatigue Crack Growth Data Determined in the LT and T-L orientations for aluminum alloy 6013-T6 sheet (0.063 inch thick) and Alclad 2024-T3 (0.100 inch thick)R-Ratio = +0.33, high humidity (R.H. greater than 90% air)


Alloy 6013-T6 is resistant to exfoliation corrosion by all current tests. Its stress corrosion cracking (SCC) resistance is comparable to 6601-T6 which is virtually immune to SCC. The general corrosion characteristics (i.e. pitting) of 6013-T6 are superior to bare 2024 and equal to alclad 2024.

Alloy 6013-T6 has exhibited shallow IG attack which is similar to 6061-T6. This type of intergranular attack is not expected to have a detrimental effect on the strength or fatigue of the product.


Alloy 6013 has improved stretch formability characteristics compared to 2024. 6013 sheet was initially used in the aerospace field to replace hard-to-form parts that historically had used alclad 2024-O temper material.

6013 exhibits better stretch bend and limiting dome height formability in the T4 temper as compared to the O and W tempers. Therefore, 6013 can be formed in the as-received T4 temper. This eliminates a costly heat treatment step. To obtain full properties after forming, alloy 6013 should be aged to the T6 temper.


6013 sheet is weldable with both MIG and TIG welding methods. Tests show that 6013 does not weld crack with 4XXX series (4043, 4643, etc.) filler alloys. Filler alloys of the 5XXX series (5356, 5556, etc.) should not be used because of potential fusion line cracking. Typically, 6013 weld strengths are 4 to 6 ksi (27 to 41 MPa) higher than 6061.


The machinability rating for 6013-T6 is a ¡E¢cE¢®Ec¢®E¡Ec¢®¡×¡E¢cC¡E¢cE¢®Ec¢®E¡Ec¢®¡×u on the Aluminum Association scale. This is the same as for 6061-T6.

FATIGUE

Comparison of Smooth and Notch (Kt=3) Axial-Stress Fatigue (S-N) Data for five lots of aluminum alloy 6013-T6 sheet (0.020-0.249 inch thick) R-Ratio = +0.1, ambient air, LT direction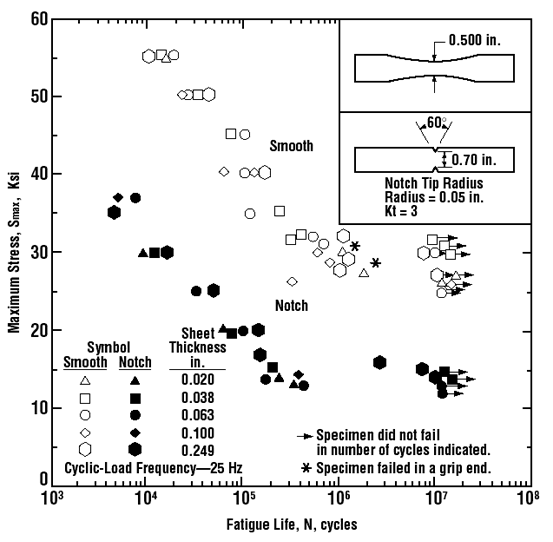 Kc fracture toughness tests show 6013-T6 to be slightly higher than 2024-T3 both at room temperature and -65¡E¢cE¢®Ec¡E¢c¢®¡¿¢®E¡EcF (-54¡E¢cE¢®Ec¡E¢c¢®¡¿¢®E¡EcC) and almost double that of 6061-T6.

TYPICAL FRACTURE TOUGHNESS VALUES


*16 inch (41 cm) wide, 0.063 inch (1.6 mm) thick, centered notched panels.