Alloy 2024 was introduced by Alcoa in 1931 as an alclad sheet in the T3 temper. It was the first Al-Cu-Mg alloy to have a yield strength approaching 50,000-psi and generally replaced 2017-T4 (Duralumin) as the predominant 2XXX series aircraft alloy.
With its relatively good fatigue resistance, especially in thick plate forms, alloy 2024 continues to be specified for many aerospace structural applications. 2024 varient alloys, such as higher purity 2124 and 2324, with improvements in strength and other specific characteristics, have also found application in critical aircraft structures. An improved sheet alloy for fuselage applications was introduced in 1991.
Alclad C188 offers improved fracture toughness and fatigue crack growth while maintaining the strength characteristics of 2024.
Alloy 2024 is available in bare and alclad sheet and plate product forms in the annealed state and several tempers of T3, T4, and T8 types.

Alloy 2024 plate products are used in fuselage structurals, wing tension members, shear webs and ribs and structural areas where stiffness, fatigue performance and good strength are required.
Sheet products, usually alclad, are used extensively in commercial and military aircraft for fuselage skins, wing skins and engine areas where elevated temperatures to 250°F (121°C) are often encountered.

CHEMICAL COMPOSITION LIMITS (WT.%)
Si . . . 0.50
Zn . . . . . . . . . 0.25
Fe. . . 0.50
Ti . . . . . . . . . . 0.15
Cu . . 3.8-4.9
Others, each . . 0.05
Mn . . 0.30-0.9
Others, total . . 0.15
Mg . . 1.2-1.8
Balance, Aluminum
Cr. . . 0.10
Note: Value maximum if range not shown.
MECHANICAL PROPERTIESALLOY 2024
All values are minimum long transverse mechanical properties except where noted.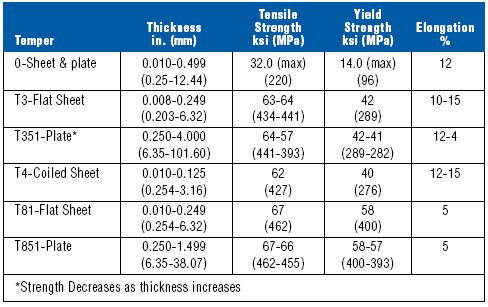 ALCLAD 2024
Two side cladding. Nominal cladding thickness is 5% on gauges under 0.062 in. (1.57mm) or less; 2.5% on gauges over 0.062 in. (1.57mm). Property values for one side cladding are slightly higher (not shown). All values are minimum long transverse mechanical properties except where noted.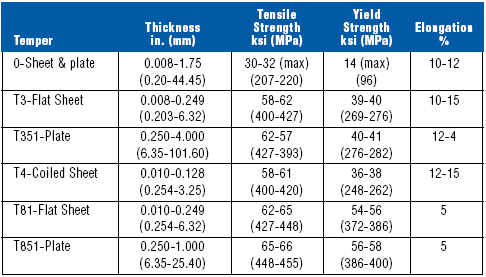 Alloy 2024 sheet and plate products in the T3 and T4 type tempers are noted for their excellent toughness at moderately high strength levels.





Approximate bands for axial-stress notch fatigue data are shown for 2024-T351 and T851 products.


AXIAL-STRESS NOTCH FATIGUE DATA FOR 4.00-6.00 IN. (101.6-152.4 MM)
THICK 2024-T851 PLATE AND 2024-T351 ROD AND BAR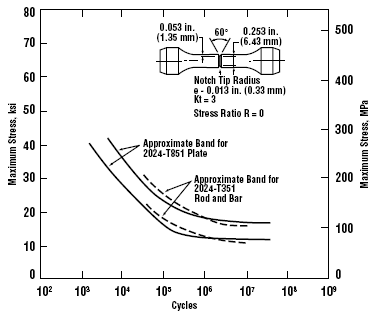 CONSTANT-AMPLITUDE FATIGUE CRACK PRO-PAGATION DATA FOR ALLOY
2024-T351 AND 2024-T851 PLATE
Approximate bands of fatigue crack propagation data for alloys 2024-T851 and T351 plate are shown in the accompanying graph.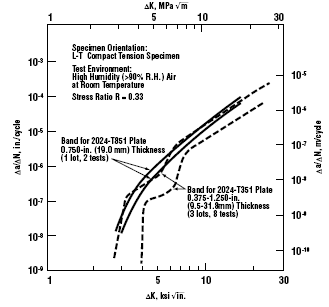 General Corrosion
All alloys of the 2XXX series are susceptible to atmospheric corrosion, especially in industrial or seacoast atmospheres. These alloys should be protected, at least on faying surfaces, when exposed to these conditions. Alcladding these alloys provides high resistance to atmospheric corrosion.
The clad surface is resistant to corrosive attack and also provides additional cathodic protection to the core alloy.


Exfoliation
Alloy 2024 in the T351 and T851 tempers has not experienced any in-service problems with exfoliation. In laboratory tests for exfoliation, alloy 2024-T851 material was essentially immune in any test plane.


Stress Corrosion Cracking Resistance
In the T851 temper, alloy 2024 has very good resistance to SCC. Control of quenching and artificial aging of 2XXX high strength alloys that have been heat treated has been effective in developing a high resistance to stress-corrosion cracking. In over 20 years of service experience there have been no reported incidents of SCC failures in 2024-T351 or 2024-T851 materials.





The recommended practices for heat-treating and aging alloy 2024 sheet and plate are described in MIL-H-6088, Heat Treatment of Aluminum Alloys.


PROCUREMENT SPECIFICATIONS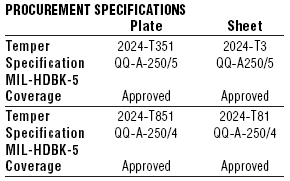 REFERENCES
1. Alcoa Green Letter No. 188, Avoiding Stress-Corrosion Cracking in high-Strength Aluminum Alloys.
2. MIL-H-6088, Heat Treatment of Aluminum Alloys.
3. MIL-HDBK-5D, May 1985


OTHER PRODUCT FORMS
Extruded, wire/rod/bar, and forged products in alloy 2024 are also available.